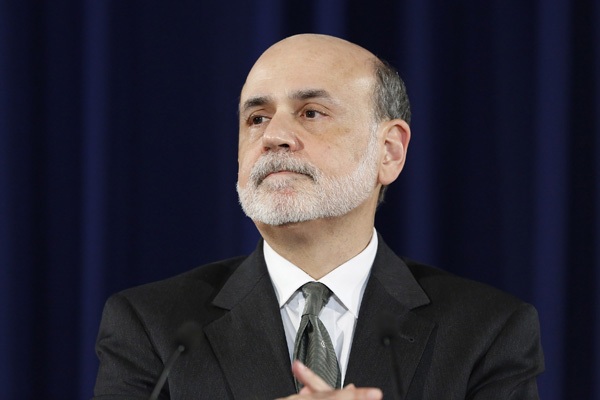 Doubtless you have read that today "the Fed" engaged in a new round of quantitative easing, aka QE3. And then the right-wing Media & Republican lunatics started their associated psycho babble about this act. Moreover, over the last few years, one of the most referenced act that Republicans and right-wing Media have railed against is the "Fed Easing" "Fed printing money", "QE2" "QE3" etc.non-sense.
So "Fed Easing", "QE2" "QE3" etc., are just more of the Con Job of Republican lunatics & right-wing Media Cabal. To be more exact, these are just Words without any real basis in reality. To be more exact where can we get $10,000 of this "Fed printing money", "Fed Easing"? HEK, where can we get $100 of this money? WHERE? WHERE?
Put another way, US economy is doing badly for average American, since Rich are getting richer like never before, NOT due to "Fed Easing", etc. which are total HOAX. But due to fundamental problems, which problems Republicans champion, again Republicans champion these problems, proving what TRUE enemy of American people Republicans are, AND which fundamental problems Obama Admin talked about but DID NOT address AT ALL, proving what HOAX they are, which fundamental problems in summary are:
1- Lack of essential Social services such as Universal nationalized health care (aka NHS), something that EVERY developed Nation has. Something that SAVES 50% on cost of health care while giving health care to all.
2- Our money (Taxes) wasted on one unnecessary War after another War and on a Gargantuan Military.
In fact the EXACT OPPOSITE of, "Fed Easing", "Easy money" exists in the US as the people in US are having a hard time to even borrow against their Houses, which means their ONLY access to money, beside their salaries, is shut off, as per this news:
http://www.cnbc.com/id/43450192
And on top of this of course the interest rates that banks pay on the saving accounts are near ZERO too which means this other source of Money that average people were getting is at near zero, which again is another indication that EXACT OPPOSITE of "Easy money" exists in US.
Question is then how can US Media be such a freaking lying machine to say that the problem with US economy is "Free Money", "Fed printing money", "Fed Easing", etc. when the EXACT OPPOSITE of this is the case. The answer to this is the same as how the US Media can be such a freaking lying machine to lie and lie to American people that Universal nationalized health care, as they have in all European countries, Canada, Israel, etc., something that would give health care to all American people while SAVE the American Government and People $1Trillion per year is bad!
"Fiat Money", "Fed Printing Money" and other rants of Ron Rand Paul psycho wing
Another series of non-sense that comes from Republican lunatics, regarding Money matters, specially from Ron Rand Paul psycho wing, are:
"Fiat Money"
"All money is Debt"
"Fed (central bankers) are counterfeit money printers�
"Fed is Printing Money"
and then: "Gold is only real Money"
etc. psycho babble.
To be exact where do these lunatics think money comes from? Jesus, Moses, God!
No, the Fed whether being US Fed, or ECB, or Chinese Central Bank, etc. Print Money which leads to having Money.
So to have as one of your complains that "Fed is Printing Money" is absolute non-sense since that is stating the statement of FACTS. That is like saying "Fire Burns" therefor Fire is Bad. But Fire also gives life, IF properly managed.
That is just as "Fire burns" is a statement of FACT but that does not necessarily mean Fire is bad and in fact it is a key part of our economy when controlled, "Fed Printing Money" is a statement of FACT without which we could not live, have an economy, when controlled.
And about "Gold is only real Money"
How do these Ron & Rand Paul lunatics think we pay for Gold! With money from Mars? With money from Venus?
NO. We pay for Gold with US Dollar, European Euro, Israeli Sheqels, Japanese Yen, etc.
So if US Dollar, Euro, Japanese Yen, etc. are "Fiat Currency" then Gold is a "Fiat Currency" since we pay for Gold with these currencies. That is we can step to any Gold counter and pay them US Dollar to take their Gold away, so who now has the "Fiat Currency"!
So to have as your so called philosophical basis that "Fiat Money" and "Gold is only real Money" is absolutely insane. But that is what the Republican party, specially its lunatic Money wing, such as Ron Paul are.
Now you may argue that Gold is an investment, which would be a somewhat rational argument, compared to such insane talk as "Fiat Currency", but then as an investment Gold is one of the Worst since it pays NO dividend, you can not wear it, you cannot live in it, ONLY thing you can do is hope for a BIGGER fool to pay you more for it.
QE is supposed to create Jobs
Finally what is most astonishing about this "Fed Easing", "QEX", etc. Bull crap is that the Fed took this step to "Lower Unemployment". How Stupid does right-wing US Media, aka Wall Street owned Media, think we are?
For how in Gods name is the Fed buying Mortgage backed securities is going to lower Unemployment, which supposedly it would due to driving interest rates lower, when interest rates are already at record LOWS!
So you want to "Lower Unemployment"? Then you would do what they are doing in Countries that have MUCH LOWER Unemployment than US, such as:
Germany has unemployment rate of 5.4%,
Japan 4.1%,
Australia 5.2%,
China 4.1%,
South Korea 3.7%
And what are these countries doing different?
1- They have Government run Universal socialized health care, which means while all their people have health care they spend a small fraction of what US businesses and Government spend on health care
2- They do NOT waste Trillions on one War after another, Wars which primary benefit Israel
3- They do NOT waste Trillions on a Gargantuan Military, so for example all countries listed above have ZERO Military bases outside of their country while US has Military bases in an astonishing 100+ different countries
4- They are making Trillions of Dollars of investment in their People & Cities such as China having built 10,000+ Kilometer of High Speed Trains. Which beside having create 10s of Millions of High paying Jobs in China also has freed China from (Middle Eastern) Oil, and freed it from much associated pollution.
All of which Steps Republicans oppose, proving what TRUE ENEMY of American People they are, and some of which Obama talked about but NONE of which it actually took, proving what a HOAX it is. Or it did not address them because the right-wing Cabal (aka Wall Street gang) behind the Republican lunatics, controls most of the US Media and thus lied and lied, to ensure that these structural problems with US economy are not addressed which problems put few EXTRA TRILLIONS Dollars per year in their pockets
And instead these bastards keep running one new Con Job after another on US, such as this Quantitative Easing Bull Crap, which as described above is just talk without any real basis in reality.
---
(1) What is quantitative easing?
http://www.washingtonpost.com/blogs/ezra-klein/wp/2012/09/13/qe3-what-is-quantitative-easing-and-will-it-help-the-economy/
(2) The Fed's Still Paying Banks Not To Lend.
http://articles.businessinsider.com/2012-03-12/news/31146859_1_financial-crisis-banks-lending-money
(3) Romney: I Love Socialized Medicine - as long as it gives all Israeli's health care, otherwise for Americans let them die of NO health care
http://www.tnr.com/blog/plank/105528/romney-praises-israeli-health-care-loves-socialized-medicine
(4) Unemployment rates in various different countries
http://en.wikipedia.org/wiki/List_of_countries_by_unemployment_rate
(5) Steps to have FULL employment and Republicans actually oppose ALL of them and NONE of which steps Obama/Dems took!
http://www.realnewspost.com/sa.php?a=47631
A great Video, as usual by John Stewart, of the Bull Shit machine that is the right-wing Media in US